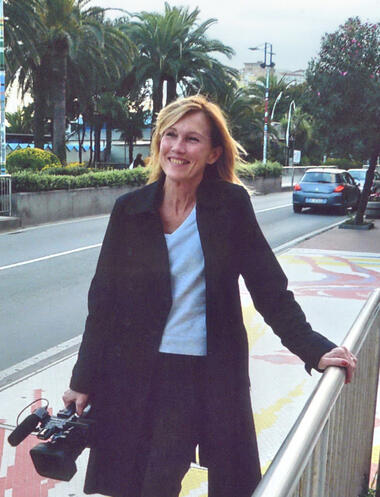 Barbro Schultz Lundestam
Réalisatrice
Swedish journalist and independent movie and documentary director, Barbro Schultz Lundestam is specialized in art and culture. After studying anthropology, philosophy, history of art and journalism, she became executive producer on Swedish radio and television in the 70's and 80's. She created innovative cultural programs and also participated in several radio broadcasts. In the mid 80's, she founds the publishing and production company Schultz Förlag AB in Stockholm and 10 years later, the SARL Schultz Forlag in Paris, dedicated to literature, poetry and art. Among her last publications, a book on the organization EAT (Experiments in Art and Technology). In 1989, Barbro meets Julie Martin whose husband Billy Klüver was engineer for Bell Telephone Laboratories. This is the beginning of her adventure on the series of 10 documentaries 9 Evenings which is now part of the Musée National d'Art Moderne/Centre Pompidou collection. Among her movies, a documentary about Pontus Hultén and the modern art museum in Stockholm Pontus et les Americains with Robert Rauschenberg, The stockholm storyabout the artist Jim Dine, I am no longer Pinocchio about Robert Whitman work-performance "Flowers" and lately, two outstanding documentaries on Wifredo Lam: Wifredo et les poètes and Poussière d'atomes included in the DVD Wifredo Lam in our Lighthouses Anthology.
What is the genesis of the series 9 Evenings?
When I visited Billy Klüver and Julie Martin in New Jersey in 1993, I came across 16 mm movies on 9 Evenings. In their archives, Billy and Julie had kept the manuscripts and some other documents. When Robert Rauschenberg asked me if I wanted to "try and do something of these completely unique documents," I was thrilled. This is the greatest gift ever.
Starting in New-York in the 60's, you're following Wifredo Lam's footsteps. Why did you choose to approach Lam through poetry and ceramics?
I always find it interesting to look outside, to broaden one's narrow circles. Wifredo is known worldwide for his paintings, and these two movies were meant to show his artistic richness in terms of lithography and ceramics. André Breton, René Char, Antonin Artaud, Aimé Césaire, Michel Leiris, Ghérasim Luca, Alain Jouffroy and Jean Dominique Rey worked with Lam, and they all wrote many wonderful books about him. The same goes for the 300 ceramics works that he created in Albisola in Italy, in the mid-70's. I was extremely lucky to find his lithographic studio in Milan and to discover his ceramics workshop almost intact in Albisola, with his close collaborators still there. As though Wifredo had just gone at the bar across the street for a coffee.