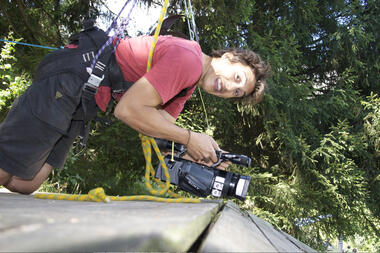 Christophe Tong-Viêt
Film-maker
After working as a civilian technician for the Navy, Christophe became a photographer for the specialised Cream and SoulBMX magazines. In 2008, he left his native Charente and arrived in St. Hilaire after a decisive meeting at the Wagas festival at the Dune du Pyla with Richard Gallon, the world paragliding champion and big brother of the Saint Hilaire du Touvet Blues team. In 2009, he produced and directed Chamonix, Les Blues font du Speed, a prize-winner at the Coupe Icare Blanche festival. He began 2010 with a video presentation of the climber Nina Caprez and then filmed of a webisode for Salomonfreeskitv on the Queyras region, before ending the year as co-director of the film Le Nid with Antoine Boisselier et Nicolas Assaël.

How did you allocate the roles for the production of Le Nid with Antoine and Nicolas, who are both natives of Saint Hilaire?
Things went quite naturally. Being local lads, they know their spots, so they had to problem in deciding on possible sessions, the idea being to adapt to each season to find the fun. The advantage of bringing a new point of view is that they listen to you straight away because you say surprising things; you have a different approach from that of your friends. I could also bring along what I had learnt in other sports which have nothing to do with free flight or mountaineering, but are related to skate-, snow- and surf-based sports.