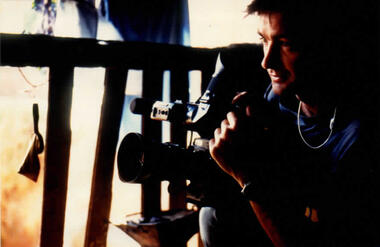 Eric Gandit
Film-maker
Born in Grenoble in 1961, Eric worked with various NGOs for ten years before devoting himself fully to making documentary films. After obtaining a CAP diploma in cable fitting in 1976, he made his debut in broadcasting in 1994 as a trainee studio manager on Le montreur de boxe by Dominique Ladoge and Richard Bohringer. He then embarked on documentary film-making to satisfy both his taste for anthropology and to try and address issues common to all peoples. Eric first took his camera to Africa and Asia to make films on subjects where originality plays with testimony. He enjoys meeting people, recounting ancestral rites at a time when globalisation is evening out our differences. In 1994, he founded Itinéraires Films with the objective of raising awareness of different cultures, skills and beliefs around the world via documentaries such as Amchi on traditional Tibetan medicine in 1996, broadcast on the Teva channel. Between 1993 and 2007, he made eleven documentaries: Akamasoa, La Croisière Verte, Le Famadihana, le culte des morts à Madagascar, Dieux d'Afrique, les vaudous, Amchi, médecine traditionnelle tibétaine, Les marins de la grande île, Ombiasy, hommes médecine, Haïti couleurs, Kandji, Gabi et Keïta, L'Arfi, le mouvement perpétuel, and finally 21 cordes pour une louange in 2007 with Seven Doc, broadcast on KTO. A constant thread with him is that his films are set within a natural, historical and cultural framework, like a window on the world. It is an opening that does not stop at the end credits of his films, because after having travelled the world in every direction, he now divides his time between the study and practice of Dharma, painting, and a new activity aimed at children, whose objective is increasing awareness of environmental protection.

How did you feel when you held your first Betacam in your hands in 1995?
It was a strange sensation really. I was finally able to meet men and women whose journeys were both a source of inspiration to me, and at the same time to recount their stories through the narrative of film. I had a tool in my hands, a sort of third eye that could open up many doors for me. This later proved to be true...
The Third World and anthropology are your passions and the subjects of your films. How do you manage not to fall into sensationalism with such topics?
It's very easy to fall into the trap of sensationalism... Experiencing unusual situations, filming scenes that are strange to our western eyes can quickly inflate the ego of whoever is behind the camera. But this is mostly transitory; you have to be aware of it. A situation, no matter how strange it is, always exists for a reason, and very often that reason is pragmatic, related to the concerns that are found on all continents, including questions about life, illness, old age, or death. So sensationalism is, like everything else, very relative, and uninteresting as it comes from a form of ignorance.