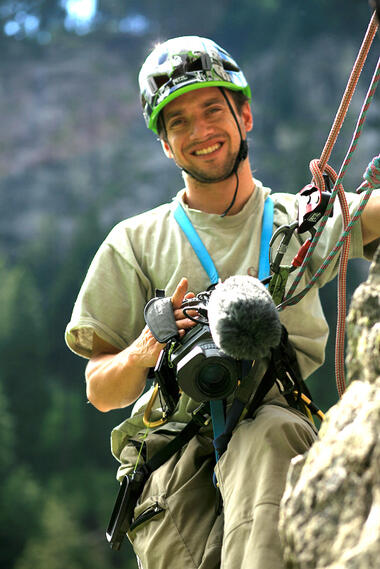 Guillaume Broust
Director
Born in 1980 in the area around Paris, Guillaume Broust landed at the age of 12 in Saint Hilaire du Touvet. Right on time to catch up his classmates' advance in ski, rock climbing or paragliding... He obtained, easy peasy, a diploma from the school of fine arts of Marseille, attended a training in Annecy in collaboration with the Gobelins School of the Image where he discovered in the form of a sandwich course the jobs in the multimedia. New technologies are his speciality: HI-8, mini DV. A world where you often work alone, in your garage, and where the director is also camera-operator, editor, sound engineer, musician and producer... Now multimedia director-designer at Petzl, Guillaume runs after time. However, in 2004, after a paragliding trip full of twists and turns to Morocco, he found time to co-direct Flying Babouches with Antoine Boisselier and Bruno Bourdat.

* Multimedia director-designer, what's that?

Multimedia means several media, so there is video, animation, Web, 3D, DVD, music, smartphones... All the new media that are developing way too fast for us to be able to integrate them! Working in this world allows me to be more open-minded about some techniques, even though on the other hand, it kind of gets hard to specialise.

* Rock climbing, paragliding, speedriding and so on... You're doing all these sports, isn't it an acrobatic feat to direct a movie that talks about a world that you know so well?

The advantage is being familiar enough with the subject to talk to the people practising these sports. The disadvantage is being too specialised and not being able to reach a wide audience. That is the difficulty of it: to be able to satisfy everyone, from the novice to the hardcore geek. Oftentimes, the climbers blame me for not letting more freedom to rock climbing in my movies – showing full sequences without jump cuts or match cuts. But this would mean losing the interest of novices. It's hard to get the proper balance. I won't linger over the technical aspect nor on the difficulty of aerial, thermal flying and rock climbing shooting... After all, it's no so hard to do with a minimum of training, organisation and self-confidence.

* When you're shooting a movie, do you have a goal?

I frequently have two unconscious goals. The first one is to show incredible things, yet not necessarily extreme sports shots to the audience. The second one is to make people laugh. Humour is an excellent way to bring together and to communicate. Ultimately, my work has a lot in common with entertainment, even though I watch movies that are more in the "drama" genre.

* Your favorite director?

That's a tough one, so multiple answers. I'm most impressed by the directors whose "touch" transpires immediately in their work and who are able to approach different themes in their own style. My top 5: Caro and Jeunet, Terry Gilliam, the Cohen brothers, Jacques Tati, Hitchcock, David Fincher, Guy Ritchie...

* The movie of your dreams as a director...

I would love to work on the movie The Lord of the Rings with it's gigantic production: settings, props, special effects, wardrobe... a blockbuster movie! As far as my personal projects are concerned, let's say that I have a lot of ideas, but mostly there's not enough time! To be continued...
Photo © Stéphan Denys