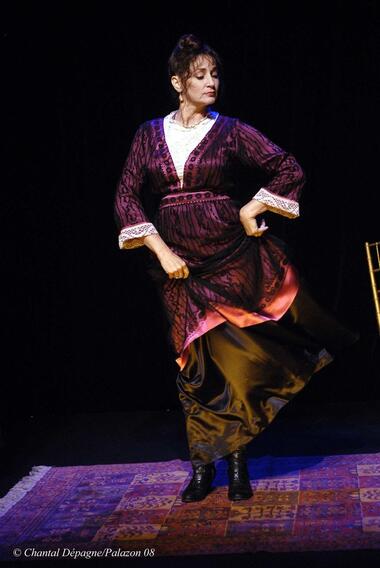 Nathalie Joly
Actress - singer
Winning first prize for singing in 1989 at the Conservatoire National de Region Boulogne-Billancourt, first prize for chamber music, and then graduating in vocal technique, Nathalie Joly very early on oriented her career towards singing and theatre. She made her debut in theatre with Philippe Adrien in Rêves de Kafka and then continued under the guidance of directors such as M. Rostain, T. Roisin, A. Francon, M. Durozier, M. Ohana, S. Abkarian... taking part in numerous musical creations. During her vocal research into the field of spoken-song, she specialised in the repertoire of the 30's and 40's through her creations and enjoyed an international career with her performances, notably J'attends un navire-cabaret de l'exil on Kurt Weill, Cafés Cantantes on the songs of gypsy superstitions from Andalusia, Paris Bukarest on Maria Tanase and Je ne sais quoi, a funny, subtle show following in the footsteps of Yvette Guilbert and Dr. Freud. Je ne sais quoi is the subject of a box set featuring the 19 songs of Yvette Guilbert performed in the show, and it comes with a 48 page booklet with the lyrics and all the unpublished correspondence between Freud and Yvette Guilbert. It is a co-production between Seven Zik and Marche la Route.

Where did your passion for repertoire from the 30's and 40's, and your admiration for Yvette Guilbert, originate?
Voyages and inventions fascinate me in the theatre and music. Spoken-song has fascinated me from a very young age, when I discovered the music of Kurt Weill, and it has given me room for freedom, a demanding inventiveness that constantly straddles the border between singing and theatre. I have explored spoken-song form in various cultures in which it exists: Spain, Germany, France, Romania and so on. Yvette Guilbert discovered it and I knew that at some point I would confront it myself: The proposal of Paul Denis for the Parisian Society of Psychoanalysis and the homage to celebrate the 150th anniversary of Freud's birth came, as they often do, at exactly the right time! Like many avant-garde singers, the commitment of Yvette Guilbert was as artistic as it was humanistic. They are the words of a committed woman, a feminist; bold, poignant and true.

Je ne sais quoi is at the same time highbrow and popular, how do you magically manage to make these two usually contradictory genres coexist?
The very origin of cabaret is an echo of what's going on in the news, in the world, in a popular entertaining form. It is a humorous and sarcastic look at things, which offers an interpretation of the world, which is both a reflection and a thought. So it's not paradoxical at all! Yvette Guilbert's songs are marvellously written and universal, and they are still very current. The audience is touched, the spectator laughs, cries, responds... cabaret is something that's done with the public.
Je ne sais quoi : press reviews
"A fascinating show, often funny, never heavy, sober... Nathalie Joly rediscovers the characteristic spoken-song of Madame Yvette." Le Monde
"A show brimming with humour and intelligence... refreshing and funny, Je ne sais quoiis a small miracle." Libération
"This jewel of a show is a must-see" Télérama
"Nathalie Joly performs the art of spoken-song wonderfully and excels at rendering the nuances of this very Parisian and libertine repertoire. With malice and extraordinary precision, she plays and sings about love in all its forms... with a consuming passion." Europe 1
"The show works like a dream, it is a leap into the unconscious and the Paris of old" Le Point
"A delightful show about the musical admiration of Freud for Yvette Guilbert" France Culture