Leonora Carrington
Leonora Carrington, visual artist and writer of Irish and English parentage, was born in Lancashire in 1917. She was the companion of Max Ernst and lived in France from 1938 to 1940.
She has lived since 1942 in Mexico, the "surrealist land par excellence," as André Breton described it.
The legends of the Celtic past in which her childhood was steeped are echoed by the witchcraft, sorcery and cult of death prevalent in that land pervaded by "an occult atmosphere laden with despair."
Her art sweeps us off to strange, irrational worlds peopled by hybrid creatures and magical animals.
To quote her friend, Octavio Paz, "Leonora's pictures are enigmas: you have to hear their colours and dance with their forms without ever attempting to decipher them. They are marvellous pictures, not mysterious ones."
Leonora Carrington has shown in many international exhibitions, both individual and collective, and has exerted a major influence on the development of Mexican painting.
Salvador Dali acknowledged her as "the most important woman artist."

This box contains the films "Open up, stone door" and a 100 pages booklet in french.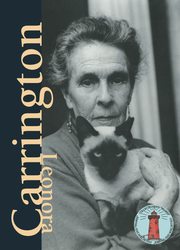 Produced by Aube & Oona Elléouët-Breton – TFV
Out in 2,011
Director Dominique et Julien Ferrandou
Video format 16/9
Book format 13,8x18,8
NTSC
PAL / Stéréo
Available languages :





Available subtitles :






Réf : TFV1101