La 2CV, un art de vivre
A recent public opinion poll placed the 2 CV in the group of head of the cars which marked the french automobile during fifty years. This film is devoted to this mythical car and those which took an active part in its first years of existence. Jean Malard is one of them: founder of the first Club 2 CV of the world, organizer of rallys and excursions (since 1952), it opens his exceptional and new files to us. Jean Vinatier, author of nine international records in 1953 at the wheel of the 2 CV Barbot, accompanies Jean Malard in the evocation by his fabulous memories.
Bonus DVD :
"La route du fer" court-métrage burlesque réalisé par le 2CV club de l'Orléanais en 1958. Le rallye 2CV en Auvergne de 1953 : 1 000 km en 24 heures ! Les vacances en 2CV d'une famille nombreuse en 1960.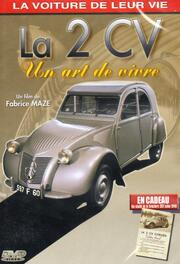 Produced by Seven Doc - Gemka - Screen Services
Out in 2,000
Director Fabrice Maze
Video format 4/3
PAL / Stéréo
Available languages :




Réf : GCB176