Baffin, the island of children
Baffin, the island of children
In 2002, International Polar Year, six mountain climbers, good pals, traveled above the Arctic Circle to discover northwestern Nunavut in Canada : twenty-seven degrees below zero Celsius, a lost land of ice and getting there was no easy task !
They are welcomed by the inhabitants of Clyde River Village, a community of eight hundred Inuit people (Eskimos). With their help, they managed to get to the immense fjords on the Eastern Coast of Baffin Island, attempting to open a new ascension wayÖto climb to the top and perform "base-jumps".To stretch their dream, wingsuits, skis, snowboards, para-gliders and kites all came into play.
Welcome to Baffin the island for children !
Bonus DVD :
Teasers. Portfolio. Sam's jump. The Climbers.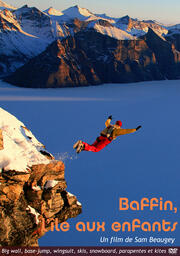 Produced by Seven Doc - Planète Big Wall
Out in 2,007
Director Sam Beaugey
PAL / Stéréo
Available languages :



Available subtitles :




Réf : SD70627