Québec Givré
Where in the world could we find that mythical icefall that would not only be great to climb but would also allow us to base jump from its top? Perhaps it's somewhere in the depths of Quebec…
The team, Mathieu, Erwan, Sam and Guillaume, called "Les Givrés" will be caught of guards in the midst of their performances, encounters and laughs, by two back-to-back brutal accidents. Their approach will change.
" What's dangerous are not the risks that you take but it's to forget you took them." ("Les Givrés")
And then, before their eyes will stand a treasure they've been hunting, the whole meaning to their journey. Just a moment of pure sensations and a few seconds of eternity, where the dreams become reality.
Bonus DVD :
Teaser. Bonus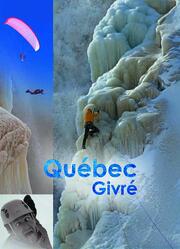 Produced by Seven Doc
Out in 2,005
Director Sam Beaugey et Erwan Le Lann
Video format 4/3
PAL / Stéréo
Available languages :



Available subtitles :




Réf : SD70906