Guides&Cie
Established in 1821, the Compagnie des Guides de Chamonix is the first and largest guides' company in the world.
Wiser for its historical organisation, this diverse community of self-employed professionals operates according to two rock-solid pillars: an in-turn work distribution and an emergency fund to support guides injured from work.
Who are these women and men who have sworn allegiance to their passion for the mountains? What values and convictions do they set forth? How do they cope with the hazards that are inherent to their occupation? How have they managed to act in accordance to tradition while adapting to the evolution of human behaviour? In other words, what does "being a guide" mean in the 21rst century , and what makes it so remarkable?
Thanks to its numerous moving accounts, this film draws a warm portrait of the guides and takes the audience deep into a very unordinary group of professionals. Undoubtedly a sensitive documentary served with stunning images!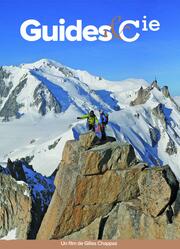 Produced by Seven Doc et la Compagnie des Guides de Chamonix
Out in 2,014
Director Gilles Chappaz
Video format 16/9
PAL / Stéréo
Available languages :



Available subtitles :




Réf : SD71304