Jean-Marc Boivin, "extremely yours"
Jean-Marc Boivin, "extremely yours"
Jean-Marc Boivin has chosen the natural elements as his field of play in his quest for the extreme, for new discoveries. He has been, in turn, mountain climber, skier, a paragliding and hang-gliding expert, explorer, sailor, speleologist and base-jumper. He has an insatiable drive to explore an "unknown land", toying with the limits of what is possible. His "career" (the word doesn't do him justice) led him, one day, to recount his most daring moments to his father, recording all of them—the happy times, the doubts, emotions and struggles. With this film he was awarded the prize for "Human Adventure" at the Festival of Free-flight Films at Saint Hilaire du Touvet. Jean-Marc, himself, does the commentary on certain of his more spectacular successes. Together with documents of the time, his own voice creates clarity and emotion, revealing the personality of this truly remarkable man who admitted one day that he had "lived all his dreams".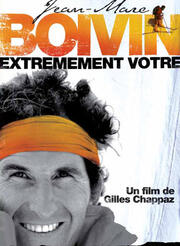 Produced by Seven Doc – Idée Originale - France 3 Bourgogne
Out in 2,006
Director Gilles Chappaz
Video format 4/3
PAL / Stéréo
Available languages :




Réf : SD70701